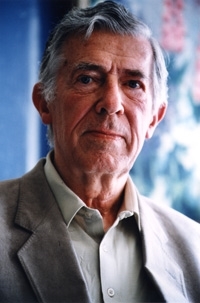 Frederik Paulsen was born on the 31th July 1909. Even though he was born in Dagebüll and not on Föhr, he had always felt a deep connection to the island. Both his parents had been from Föhr. His father worked at the post office in Dagebüll where many citizens from Föhr passed through. Thus, Fering (the Frisian dialect spoken on Föhr) was often spoken around the office.
In 1917, the family moved to Kiel in order to give their children the possibility of an academic career. Frederik Paulsen was a very responsive student and would seldom be found without a book.
He was an active member of several left-winged student organizations during the time of the Weimar Republic. Following the advice of his father, who already sensed that his son's political views might endanger him, Frederik Paulsen started to study medicine in 1928, even though this decision was against his deep interest in Philosophy, History and Literature.
His opposition towards Nazism was discovered anyway. Paulsen was arrested and imprisoned after translating and distributing a newspaper-article. He was sentenced to eighteen months in prison. During this time, he started to bond with a fellow inmate from the island Amrum. They were able to communicate in Frisian, making it impossible for anyone else to understand them.
His family aided him in emigrating to Swiss after being released from prison. He received his doctorate in 1935.
Frederik Paulsen decided to immigrate to Sweden where he started a family and worked in the field of endocrinology. In 1950, he started his own pharmaceutical company in Malmö which he later named "Ferring AG". The Ferring AG has become an internationally acclaimed company.
At 60, Frederik Paulsen retired from management and was succeeded by his youngest son. Paulsen and his wife Eva retired to a house in Alkersum which used to belong to Paulsen's mother.
His commitment to the Frisian movement became even stronger. He became a spokesperson for North Frisia and an international mediator when it came to minority issues. In 1948, the North Frisian Institute came into being. Frederick Paulsen was among its founding members.
Paulsen founded the Ferring Foundation in 1988 and thereby created an institution that helps to preserve the Frisian language and culture.
Frederik Paulsen died in his house in Alkersum on the 3rd of June 1997, 88 years of age.